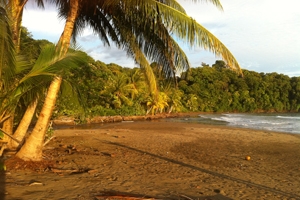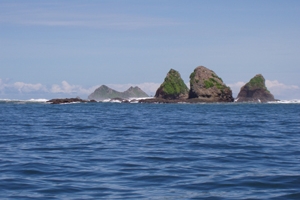 PLAYA BALLENA
(Main entrance to the National Ballena Marine Park)
Right in the heart of the National Park.
Beautiful sandy beach ideal for swimming, walking and spotting wildlife. You can at least walk 10 km without seeing a single human being ?
Entrance to Playa Arco, a secluded beach, only accessible with low tide.
Entrance fee for National Ballena Marine Park US $ 6
How to get there: entrance by car, 5 km north of Hotel Villas Gaia, marked by sign, arriving to small, parking lot and guardhouse where you will be asked to sign in and pay the entrance fee. Walk 50 metres to beach.
Info: The Park consists of 5,375 marine hectares and 110 terrestrial hectares. The park was created in 1989 and established itself as the first marine park in Latin America
The park protects its beaches, estuaries, mangroves, cliffs, islands, rocky shoals, the point at Uvita and the surrounding reef, the park covers 13 km's of coast line from Uvita point to Pinuela beach.
The park also protects the islands set a few miles off shore namely Isla de Ballena y Las Tres Hermanas home to among others the magnificent frigate birds.