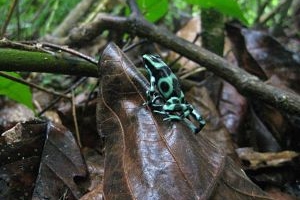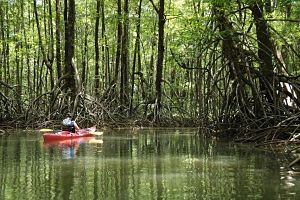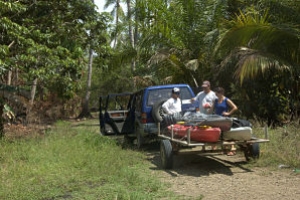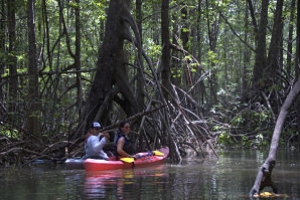 MANGROVES KAYAK TOUR
The mangroves in this area are part of the international Reserve Terraba – Sierpe Humid Forest. It covers in total 22.000 ha. of mangrove forests and is one of the biggest mangrove areas in Central America. Mangroves are what botanists call halophytes, plants that thrive in salty conditions. Although they do not require salt (they in fact grow better in fresh water), they thrive where no other tree can.
Many varieties of aquatic birds are to be found in the mangroves. Common species are: reddish and blue egret, white ibis, kingfishers, ospreys, pelicans, frigates, tiger and boat-billed herons. Frequently spotted mammals are the white face, and squirrel monkeys and the crab eating Raccoon. Reptiles to be observed are mostly small constrictor snakes and young crocodiles (about 2 feet long).
Price: US $ 65 pp. Minimum 2 persons
Duration appr. 3 hours.
The Mangrove- Kayak Tour is using short sit-on-top kayaks quietly travel in the shade of the Mangrove trees through narrow canals opened for this tour. No outboard motor disturbs the tranquil habitat. Duration of the tour is 3-4 hours.
The kayak tour leaves only one hour before high tide, because of the fact that the tour goes with the flow during this time.